WPC is made of a mixture of materials consisting of wood and recycled plastic. It has a nice appearance that resembles real wood and requires little maintenance, which makes it a great alternative to other types of decking.WPC is the abbreviation for wood plastic composite.
WPC decking is the fastest growing wood deck alternative on the market. It boasts low maintenance and a much longer lifespan than wood decking.
WPC decking is a man-made building product that includes an approximate equal mix of recycled wood fibers and recycled plastic.
What is the formula of WPC decking or other WPC Products?
The formula of each factory is actually different, and the different formula also affects the price of the product, we think good WPC product must be added with a certain dose of antioxidants, anti-ultraviolet agents, etc., the general formula of our WPC DECKING we sell is 55% Wood Power +35%HDPE +10%Additives,.
Advantages of the WPC decking: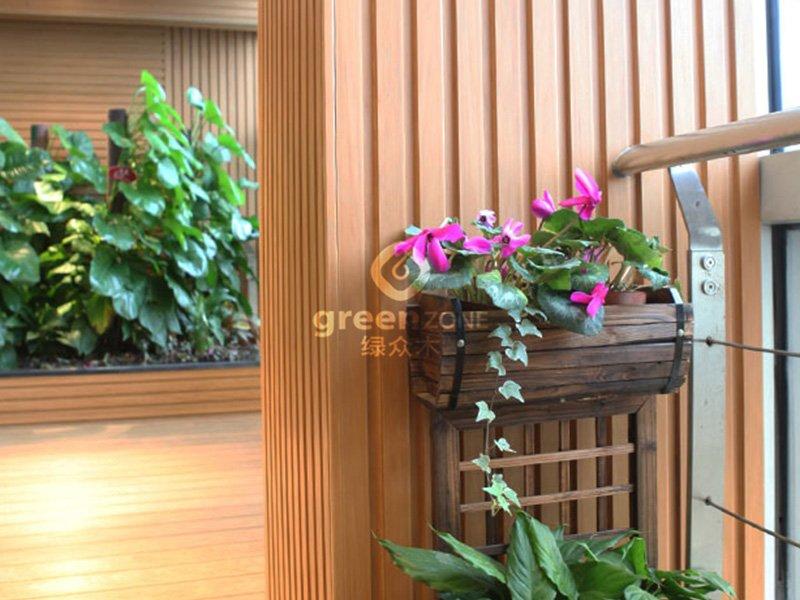 Durability: Composite decking is designed for maximum durability. It resists fading, staining, scratching and mold, and won't rot, crack or warp. It's also insect-proof and splinter-free, making it safer and more comfortable for families with kids and pets. Especially for capped decking board.
Low-maintenance: With composite decking, you never need to worry about sanding, staining or painting. Just an occasional soap-and-water cleaning is all that's needed to maintain stability and beauty for decades. Hanming decking even comes with a 5-year Fade and Stain Warranty, ensuring that it will continue to look and perform as well as the first day it was installed.
Sustainability: Composite decking provides the look and feel of wood without the environmental impact. The deck boards are made using recycled content, including reclaimed industrial wood scraps and recycled plastic from common items such as shopping bags and newspaper sleeves.
Hollow composite decking
Many people ask what Capped WPC decking and interlocking WPC decking tiles are? What do they mean? Are they the same WPC decking?
Yes Capped WPC decking and interlocking WPC decking tiles are also WPC decking, but there are Some difference between them.
1:For capped composite decking,It is produced via a co-extrusion process where a 360 degree outer armour is used to protect the core of the deck from the elements. As a result to be color fade resistant, strength load resistant, stain resistant and also highly slip resistant.
Capped WPC decking protective layer: the protective layer of capped composite decking with special formula, create clear wood grain and natural color, at the same time four-sided coating, all-round protection plate, more wear-resistant, anti-scratch, anti-stain. In crowded areas, can effectively prevent people and hard objects caused by the scratch, more can withstand the nature of all kinds of bad test. The protective layer is produced at the same time as the plate and will not be separated.
2: For interlocking WPC decking tiles, it is a combination of WPC board and plastic base, installation without the need of keel and screws, etc., only need to splice the installation can, the surface of the board has 72 X11mm,55X10mm, WPC boards placed in the plastic base fixed by screws, commonly used decking tiles there are300X300X22mm, 600X300X22mm,etc.Surfaces of the plate can be grooved, or with WOOD texture.
The difference between WPC Decking and anticorrosive wood:
1:The loss of composite profile is lower than that of anticorrosive wood:
Under the condition of equal construction area and volume, the loss of WPC is less than that of anticorrosive wood. because plastic wood is profile, according to the actual size needs of different indoor and outdoor projects, the length, width, thickness of the material produced in accordance with the need and the length of anticorrosive wood is specified dead, generally 2 meters,3 meters,4 meters.
2:Plastic wood is a kind of composite profile, many hollow specifications can Save a lot of materials;
Aluminum alloy doors and Windows can be so quick popularization is known to all, because is hollow profiles, if be solid, so the price is incredible high . Plastic wood hollow savings, although not as high as aluminum alloy, but also more objective. We all know that hollow can not only reduce weight, plastic wood can be hollow, and anticorrosive wood is impossible.
3:The plastic wood surface does not need to be painted
General anticorrosive wood construction finished or construction process should be painted on the wood surface or painted with water-based paint.
4:WPC products are maintenance-free
Anticorrosive wood due to ambient temperature and humidity and solar ultraviolet radiation, generally in one year need to do maintenance or paint. In the long run, the maintenance cost of plastic wood is far lower than that of anticorrosive wood products.
5:The dismantled wood plastic can also be recycled to reduce the consumption of resources, in line with the concept of environmental protection, low carbon and economic。
what the application of wpc decking ?
As WPC decking is Versatile material, high performance, low maintenance, Wood-plastic floor has been widely used in many fields.It can be used for patio deck, Garden floor,pontoon, Park, Road floor, Swimming Pool decking board,Etc, and the Wood Plastic composite material is aslo Produced to be Railing, Post, Pergola, Pavilion, Bench, Fencing, Flower box and So on.