The focus of home decoration has always been indoors, outdoor decking decoration is easily overlooked by people, especially the outdoor terrace.
Some people will choose some colored floor tiles, but in any case, the floor tiles will give people a feeling of being too cold and less comfortable. In fact, there is another option now, covering the terrace with wood plastic composite(WPC) decking. The use of wood plastic materials outdoors is much better than floor tiles in creating a homely atmosphere.
WPC decking has anti-corrosion effect, so more of it will be used as material for outdoor flooring. Wood plastic decking can effectively prevent the erosion of microorganisms and moths, as well as waterproof and anti-corrosion, so it can withstand the harsh outdoor environment without having to bother to maintain.
The outdoor terrace of this seaside holiday villa is laid with wood plastic composite decking. The combination of wooden outdoor tables and chairs and plastic wood flooring is consistent in style and full of natural charm. Combined with the natural beauty of the rolling sea, it presents a comfortable holiday atmosphere.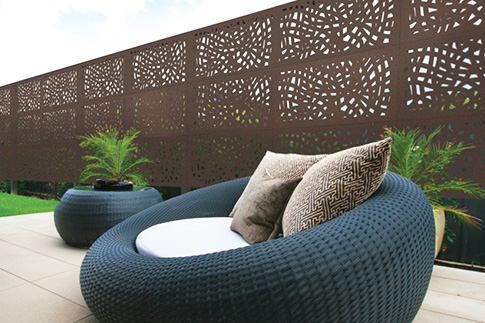 Greenzone's wooden outdoor furniture is widely praised by customers.Under the guidance of market, Greenzone constantly strives for innovation. Wood fence has reliable quality, stable performance, good design, and great practicality.Greenzone has a production and management team with rich experience. We provide professional OEM/ODM services for new and old customers.
If you want to buy WPC decking and wooden outdoor furniture.Greenzone is your best choice.
Since established in 1999, Greenzone always keep on pouring humanistic philosophy of "Low Carbon and Environmental Protection, Ecological Architecture and Healthy Living"to the research and development stage, Our company focus on R&D, and then with the birth of "Greenzone Eco wood".
Greenzone made good use of network,through in-depth understanding to the needs of industry, combined with the cognition of professional wpc products.The R&D could be carried out free design and innovation from the practical point of view,and created a unique, popular Greenzone style.
Greenzone make the captious selection from domestic market even to the global market,only want to select the most appropriate and most high quality wood powders and wood plastic composite, so that it can provide the strong guarantee for the quality of "Greenzone eco-wood"products.