Wood plastic composite decking is made from a combination of recycled wood and pe/pvc. It is a popular alternative to wood because it needs no sanding, does not splinter, holds up well under inclement weather conditions, and is available in a variety of colors and finishes.
When it rains or composite lumber is infiltrated by water, will pedestrians slip through the composite floor?In fact, the anti-skid coefficient of the composite floor is still quite high, because after the floor comes out of the extruder, the surface needs to be polished, so that the plastic on the surface is polished off.Coupled with some composite floor surface grooves or online embossing, the decking is not so slippery.Therefore, some countries with many Rain Water are also using this kind of floor.
Anti-Slip composite decking
Two different surfaces(grooved surface and smooth surface)
Each WPC decking we make is treated with two different surfaces, one side with a smooth surface and the other with grooves. Where better slip resistance is required, the grooved surface can be mounted upwards, and it is not easy to slip on barefoot or shoes.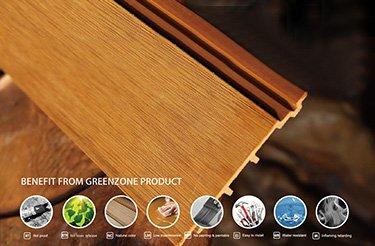 Keep the decking clean
Sometimes slippage is caused by mold on the deck surface. The composite floor is generally not moldy in itself., but pollen, leaves or other debris on decks can cause mold. It is important to note that soap and water are used daily for regular cleaning to keep the decking clean.
According to Richmond, who installs plastic and composite decks, all-plastic planks seem to be a little more slippery than regular wood, whereas composites are not. "Most plastic boards are smoother on top than composites, which have a rough texture to improve slip resistance," he says. To ensure safety, manufacturers of plastic and composite decking have started submitting products to slip-resistance tests set up by ASTM International.
Greenzone WPC Company is the leading WPC(wood plastic composite) manufacturer in China.Greenzone Pellet is composed of wood powder,resin and additive,the powder is mixed to a dough-like consistency and then extruded out to from GREENZONE Pellet.
Our products stand out in the industry with following features :
Rot proof
No toxic release
Natural color
Low maintenance
No painting&paint able
Easy to install
Water resistant
Inflaming retarding
Greenzone offers full care & professional service:
Some free samples can be sent to you to get more information about the production's material and artwork, Your international courier account is needed to send you the free samples.
We will give you the suitable suggestions for the products selection to meet your design's requirement; and also some solutions about the products installation.
We also pay high attention to the after-sell service, your complains about our product problems will be handled immediately, we will send you the new replacement of the products if the complains is caused by our quality problem.