The rapid development of social economy has promoted the great changes of people's life style. Entertainment has become an important part of people's life, but now more and more people tired of being a noisy, tensing and chaotic place but prefer to stay in a quiet, relaxing and private place.
Why don't do it yourself, create one for yourself? Neither digging nor drilling, firstly you just need measure the area of your balcony and how many deck tiles do you need, then fit our Greenzone wood plastic composite decking together in your balcony, then you will get a nice as well as functional outdoor living place at low cost, you can sit on a rocking chair to see the sunset or invite your friends to have a BBQ party etc. This outdoor space not only make you enjoy your spare time, but also requires barely maintenance or painting, which is very convenient.
WPC is wood plastic composite which is widely used in outdoor place such as hotel, park, cafe, swimming pool etc, and also commonly used in family balcony or terrace. Compared with timber decking, WPC products have real wood appearance but no need for oiling or painting, stain-proof, mildew and mold proof, no cracking. And don't worry about the quality of our product, it uses the finest in recycled wood and plastic to deliver the highest-quality product to homeowners, and it is 100% recyclable, leaving no carbon footprint.
Our diy composite deck tile are an affordable solution for your home. They are beautifully designed with an interlocking systems which makes it more easily assemble. These systems are easy to install and don't require a skilled contractor. If you want to remove them, just need to take them apart.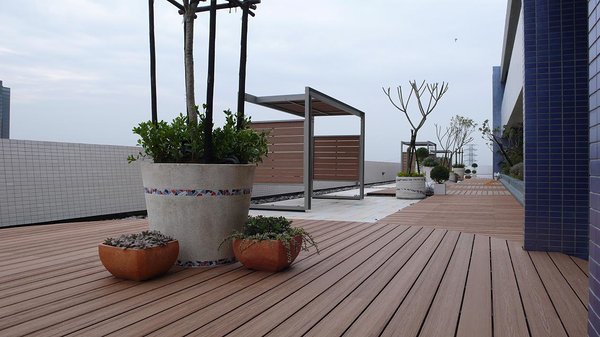 Greenzone's composite deck tile can be used for patios, balcony, swimming pool and so on.
WPC deck tile material is stable and resistant to saltwater, with exceptional resistance to UV exposure, WPC deck tile's outstanding performance is matched with a 15 years warranty. Offering exceptional benefits over other materials, WPC deck tile will not rot, crack, splinter or rust, and will require no painting or oiling.
WPC deck tile by Greenzone is made by co-extrusion, we create a layer around the WPC core to protect the surface. The layer is a kind of mixed multi plastic with additive like UV stabilizer, coupling agent, anti-oxidant and so on. WPC deck tile is ultra UV resistant, scratch resistant, mold resistant and stain resistant, the maintenance is quite low.
Greenzone products are not only affordable and maintenance free, but eco-friendly too. All of our composite wood products are made up of recycled timber, high-density polypropylene, UV stabilizers and bonding additions. These materials combined together and create an exceptional, durable composite product, repelling moisture offering a completely maintenance free product. The waste renewable and natural fibers that is used is perfect for environmentally conscious customers, looking to reduce their carbon footprint and environmental impact.