Recycling Plastic In Place of Timber Though all that plastic is filling our landfills, more than thirty acres of forest land is cleared every day in Africa just to provide Ireland with timber. Multiply that by all the countries and all the people in the world, and it's pretty clear that we're cutting down more trees for virgin timber than we can replant.
This is where recycled plastic WPC decking comes in. Not only do recycled plastic WPC decking divert plastic waste from sitting in a landfill for hundreds of years, but these recycled plastic WPC decking also save a few trees that would have gone toward making wood furniture. If you purchase outdoor furniture made from 100 percent recycled plastic, you're helping create demand for recycled plastic outdoor furniture that in turn helps grow the market for things like recycled plastic WPC decking, and companies that make them can operate more efficiently because of economies of scale.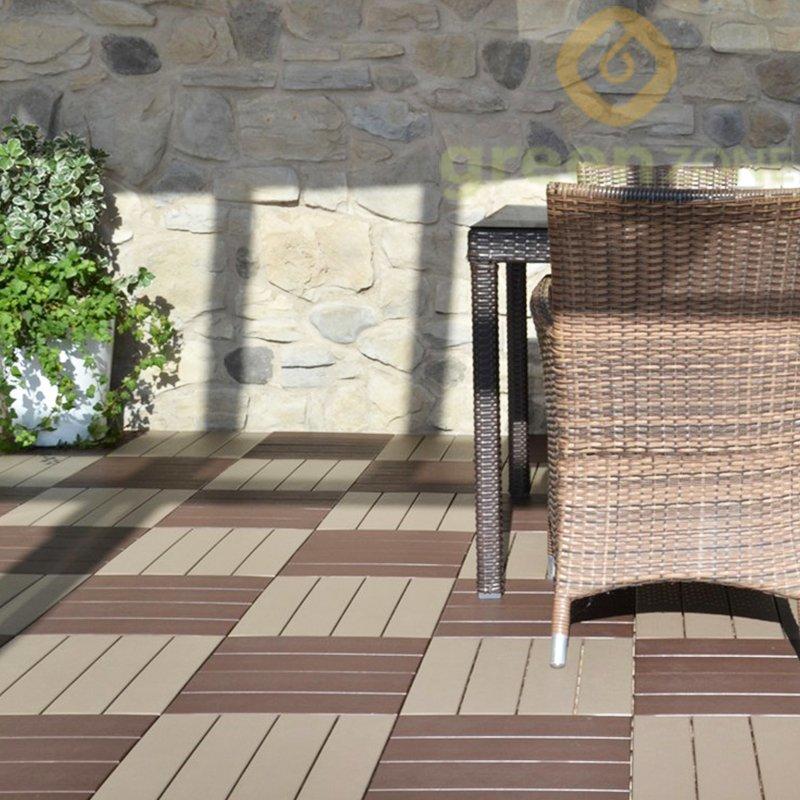 How Useful Is Recycled Plastic? The concept of recycling plastic tends to conjure up images of shoddy, ugly flimsy, and vastly overpriced outdoor furniture. That image is outmoded and very far from the truth. Recycled plastic is now used extensively in place of virgin timber, and not just as a substitute for wood furniture. These days, environmentally friendly recycled plastic products have developed to a state where recycled plastic WPC decking is as aesthetically pleasing as wood furniture, is high quality, durable, and competitively priced.
Recycled plastic is durable. Unlike wood furniture, recycled plastic WPC decking doesn't rot, grow moss or algae, react to dampness or absorb water, frost, or ultraviolet radiation. It won't crack, or splinter and lasts ten times longer than wood.
In addition to recycled plastic WPC decking, recycled plastic can be used for wood fence panels, decking, pathways, signposts, play equipment, storage boxes, and just about anything else that could be made from either wood or plastic.
How Durable Is Recycled Plastic? Plastic waste, much to our great displeasure, does not rot. When that plastic waste is turned into recycled wood plastic composite decking, that liability becomes an asset. When the outdoor furniture is manufactured, the plastic is dyed inside and out, so there is no peeling or wear like an ordinary paint finish would do. It is exceptionally tough and can withstand all the wear and tear of heavy easily, and requires almost nothing in the way of maintenance.
The Cost of Recycled Plastic The cost of recycled plastic outdoor furniture relative to wood furniture depends on what kind of wood the plastic is being compared to. Recycled plastic is competitive with premium woods like mahogany or teak, and in fact, often costs less.
It costs around two or three times more than basic southern pine, but that's just the cost to actually buy it. Think about factoring in the relative durability of the materials. If you consider the cost of the material over the entire course of its life cycle, you get a different impression entirely. For one thing, wood requires sanding, sealing, and maybe painting, which can either cost you money or cost you both time and money. Now, try to fix in your mind a cash value for aggravations like splinters. Lastly, think about how often you'll have to replace that plain old basic southern pine. Teak may last a long time, but not forever. And plain old southern pine won't last long at all. Recycled plastic, on the other hand, will last over 400 years with only minimal degradation. At the end of the day, recycled plastic WPC decking has a higher initial cost than cheap wood WPC decking, but over time, are more economical.
Recycled plastic WPC decking offers a double dose of satisfaction: you will save the environment as you enjoy it! Crafted from recycled products, this nature-friendly furniture is durable, lightweight, and comfortable.