More and more homeowners are going for wood plastic composite decking for a harmless, maintenance-free platform around their swimming pools and along waterfronts. Why? Because, in addition to its durability, composites also provide homeowners more value and a lot of other distinctive advantages that installers should to have a conversation with their customers. In addition to the initial cost of installation, the benefits of a composite decking can far exceed those of traditional lumber.
Here are several crucial differences that outdoor patio contractors should incorporate into their marketing and sales materials to assist homeowners be aware of the many reasons why using composite decking is better than traditional timber, or PT timber, for their waterside application.
Fading
While decks used with traditional timber may initially look fantastic right after its finished, maintaining it looking this way requires lots of work. After it's experienced for a year approximately, pressure treated lumber needs to be painted and sealed with a high-quality stain to avoid discoloration from the sun's damaging ultraviolet (UV) sun rays. It should be reapplied every couple of years to keep it looking 'fresh' and new. Composite decking materials do not require staining or painting as they are produced with components, including special UV inhibitors that resist staining and fading.
Greenzone composite decking always takes this protection a step further with the addition of having a layer of co-extruded polypropylene to the exterior surface of each composite board it produces and backs it with a warranty. In contrast to pressure treated timber and stains that can leech dangerous chemicals into the environment over time, the capped technology of Greenzone wpc decking minimizes dampness absorption, a thereby decreasing problems typically associated with excessive expansion and contraction.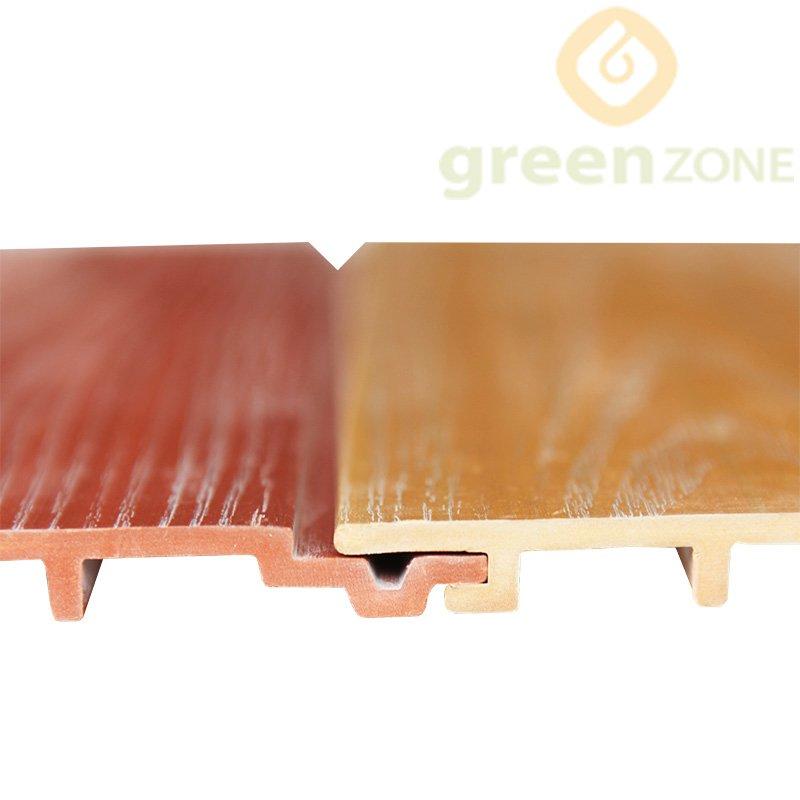 Chlorine and salt water staining
While both natural rock and traditional timber are susceptible to staining from salt and chlorine, composite decking resists this kind of staining because water simply drains from the surface. Staining could be particularly obvious along waterfront installations positioned close to the sea or by swimming pools as salt and chlorinated wate evaporates and leaves these |chemical substances behind. As well as becoming ugly, salt and chlorine, stains can also be harmful to the material beneath as well as to the sensitive skin of people and pets who may come in touch with it. Polypropylene capped composite decking will not be harmed by these chemicals substances and simplifies the removing of these unpleasant stains using just water with a soft bristle brush.
Manufactured in China, Greenzone decking is made to resist the toughest climate conditions – such as year-long being exposed to sea sprayed salt water along its gorgeous, durable coast.
Slip resistance
There is a Catch-22 with regards to conventional wood and slide resistance – more clean and smoother the surface, the greater slippery it will become. This gets to be more of the problem amongst decks which are installed around pools or near other sources of water for example along rivers and lakes, where people are more likely to walk with their bare feet.
Maintain a smooth surface deck is important for preventing splinters and reductions – but this could also create a slippery surface for all those jogging or running across it. To create concerns worse, traditional lumber can also be prone to mold and mildew progress – particularly in areas where drinking water is present – that may boost the fall-aspect a lot more.
Nowadays, composite decking suppliers are unable to only combine colors and components to closely imitate the appearance of several hardwoods, suppliers like Greenzone use the higher coefficient of friction manifestation of polypropylene together with an embossed timber grain on its surface area to provide extra traction, even if wet. In contrast to traditional timber, the improved structure of the grain is constructed directly into the composite substance itself, essentially removing the chance of splinters.
Structural integrity
Unless set up in a wasteland, anywhere two pieces of wooden are affixed to one another outside the house, there's a likelihood that dampness will somehow locate its way between them. Exactly where there's moisture, there's also the opportunity of timber to rot – and rotted wood is fragile wooden. Despite the fact that any weakened spots inside a wood framework may become a security threat, these dangers become even greater when located around drinking water.
Especially dangerous circumstances can occur over the border of waterfront decks or pools when rails and stairways become affected. Appropriate framing strategies and code-compliant fasteners are crucial during these places to ensure that a powerful, secure buffer is created and preserved between those enjoying the outdoor deck and also the water located near it.
The railing from Greenzone made utilizing solid, extruded cell PVC encircling a strong (yet light) light weight aluminum strengthened primary that fits both residential and commercial structural computer code requirements. Associated with hidden, stainless mounting equipment, Greenzone's railings deliver lengthy-long lasting durability and a thoroughly clean, maintenance free cosmetic physical appearance that PT lumber simply can't complement.
Lifespan
The life of time that some thing may last are often based on how well it withstands the environment it inhabits. This opposition is formed through a mix of a couple of things (1) the individual qualities of every material used (2) how well all these components are mixed and enhance (the skills and lack of strength) of each and every other. As an example, the properties of strain taken care of (PT) lumber are designed to allow it to repel humidity and stop bug problems far better than with no treatment timber. As a result, building something outside the house with PT timber will typically stay longer than building anything with with no treatment timber. To boost its useful life even more, wpc companies advise that extra paints, unsightly stains and additives will also be routinely included in it. The attributes from the PT timber and also the blemish are designed to accentuate each other to boost its combined resistance to the elements. Nonetheless, even most well-produced material can have its restrictions if it's installed or assembled wrongly.
A pressure treated deck developed on inadequate footings will quickly bend and buckle with heat and humidity modifications. Fingernails and screws that are not treated (galvanized or stainless) to stay in connection with the chemicals injected into PT timber will quickly corrode and fall short to keep a safe link.
Consistent efficiency
Even probably the most minor details, like inconsistent or fluctuating deck board spacing, could cause debris, dampness and trash to gather and cause wood to rot ahead of time. Here once more, composite decking supplies naturally prevent most of these incompatibility concerns. Due to the fact composite decking is made with a blend of polypropylene plastic material and wood fibers, it really is inherently much more immune to problems brought on by mold, mildew development and moisture buildup brought on by debris and particles. Composite decking is additionally a lot less susceptible to movement caused by dampness and heat change, insuring correct spacing (and drinking water water flow) around the deck area all through the year.
Lastly, a growing number of exclusive hidden fastening methods are allowing deck builders to set up an entire composite decking solution which includes parts which can be specifically made to work collectively. These techniques, created to decrease installation time (by up to 50Percent) can also be delivering an remarkable level of uniformity for your home owner.
With its unique installment process, Greenzone's installation system not only creates a solid, smooth dampness shield along each deck joist, in addition, it automatically spaces each composite deck board a standard 3/16" separate.