Greenzone WPC wall panels are perfect for any commercial or domestic, new build or refurbishment cladding project. You can use it as a color-stable alternative to real timber planks. Made from a unique combination of recycled wood and plastic, our highly developed and unique composition combines the traditional appearance of wood with the durability of an engineered composite.
The right exterior wpc wall cladding, no matter on a new build or renovation project, can have a dramatic impact on a building's appearance and can provide both warmth and attractive. When used for external applications, Greenzone WPC wall cladding is an attractive and economical way to finish the exterior of both new and refurbished buildings and never needs painting, staining or treating, saving you time and money.
Adavantages of WPC Wall Panel
Excellent performance
The WPC wall panels developed by Greenzone has the properties of waterproof, anti – borer, corrosion resistance and so on. It is an ideal substitute for solid wood at present, and also has the function of thermal insulation and heat preservation.Beautiful and elegant nature wood grain texture and touch.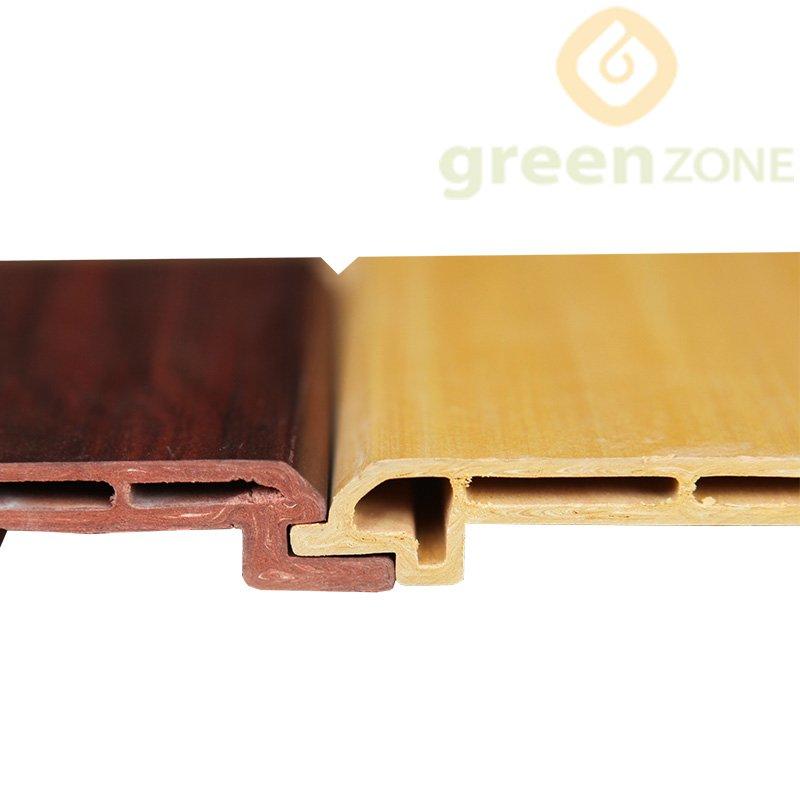 High density
Our WPC wall panels are made of high-density polyethylene and hardwood fiber. It has good stability and strength compared to wood. WPC wall panels will not crack and distortion. It's suitable for the external wall.UV & fade resistance, high density, durable use.
Environmental protection
WPC wall panels are one of the most environmentally friendly flooring options. It is a renewable energy source that does not require any chemicals to produce, easy cleaning and low maintenance. Sustainable development, reproducible, and simple maintenance, it's indeed a very green environmental material.
Good weather ability, suitable from -40℃ to +60℃
Can be shaved, nailed,drilled and cut to fit different specifications.
Environmental friendly, fully recyclable and no other hazard chemical, saving forest resources
Compact and light
Portable materials make your building easier. Our wall panels are convenient to transport and install, sawing, planed and drilled. You can use it to present a variety of elegant designs and patterns.Easy to install & low labor cost.No painting, no glue, low maintenance.
With the visual appeal of real wood cladding. Our WPC wall panels are manufactured from a unique combination of wood and plastic, is resistant to rotting and has a vibrant long-lasting color.
With wall cladding becoming increasingly popular as WPC cladding material as an alternative to a brick or render finish. It's important to choose a material that is both attractive and durable.Greenzone cladding boards lend a distinct impression on facades. Highly resistant to fading or dis-colouration, buildings will look new for years, without the hassles of periodic maintenance. Interlocking assembly ensures no water leaks to the building superstructure and hollow core technology for insulation are benefits unavailable in other facade solutions. Greenzone cladding blends perfectly with other materials in contemporary or futuristic design, unboxing a whole new world of possibilities.
Greenzone WPC wall cladding is suitable for both domestic applications such as homes, gardens, and outbuildings. It is also suitable for demanding commercial applications such as offices, factories, and residential developments.