WPC flooring stands for Wood Plastic Composite. These 100% waterproof engineered luxury vinyl planks and tiles are DIY-friendly, featuring an effortless interlocking system that can be installed over most existing subfloors.
WPC vinyl flooring is extraordinarily durable and known for its gorgeous, realistic aesthetic. Using advanced technologies, manufacturers are able to beautifully mimic the look of natural wood and stone at a lower price point.
What Is WPC Flooring?
WPC vinyl plank flooring and WPC vinyl tile flooring are best known for being 100% waterproof. It is luxury vinyl flooring amped up a notch with a special waterproof core that makes it perfect for just about any room in the house.
WPC is the best of the best in the vinyl flooring world and hugely popular amongst homeowners looking for the look of traditional hardwood without the maintenance. It is also one of the most popular flooring options for commercial spaces and businesses.It's beautiful and low maintenance.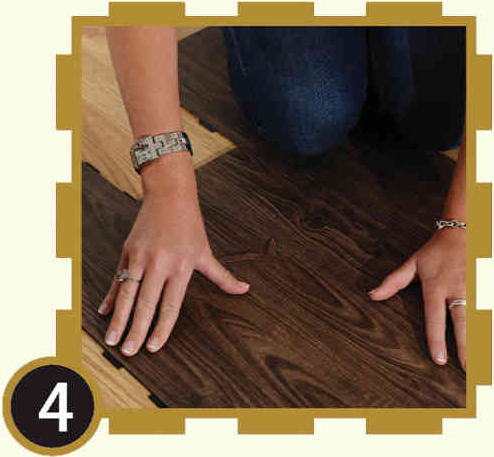 WPC Core
This is the main attraction! WPC flooring contains a solid, waterproof WPC core. It won't ripple, swell or peel no matter much liquid you subject it to.
Printed Vinyl Layer
This is where you get your gorgeous photo imagery that makes the vinyl look (nearly) identical to natural materials like stone and wood. Often, WPC vinyl flooring is the highest quality vinyl on the market. This means you get the most realistic looks that people will swear are real wood/stone!
Wear Layer
Just like with traditional vinyl, the wear layer is like your bodyguard; it helps protect your floor from dents, scratches, etc. The thicker the wear layer.
WPC indoor flooring is known for having buff, beefy wear layers offering more protection. When you look at vinyl flooring, it's just as important to look at wear layer thickness as plank thickness.
Is WPC the Same as LVT/LVP?
LVT stands for luxury vinyl tiles and LVP stands for luxury vinyl planks. Sometimes you will find LVT/LVP that are also waterproof/WPC, but not always. They mean two different things.
Typically, all WPC products will be considered luxury vinyl tiles or luxury vinyl planks, but not all luxury vinyl is WPC. Kind of like how all golden retrievers are dogs, but not all dogs are golden retrievers. It's a specialty in the luxury vinyl market.
Why does WPC Vinyl matter?
Simple: a thicker plank is denser. It's going to feel sturdier, and more substantial beneath your feet, as well as covering up for a less-than-stellar subfloor. It will also provide more resiliency and durability, making it more comfortable to stand on for extended periods of time, and also more likely to withstand the test of time.
All of our WPC vinyl flooring is relatively thick and definitely dense and durable enough for entire home use. If you're trying to determine the best quality, you'll want to look more at the wear layer than plank thickness.
Pros of WPC Vinyl Flooring
1.It's 100% waterproof. I mean, this is the trademark of WPC vinyl. The only other floor that can claim to be 100% waterproof is glazed manmade tile.
2.Perfect for imperfect subfloors. Little known fact: because WPC vinyl is so thick and durable, it can hide an imperfect subfloor. I know, I know, you don't care what the subfloor looks like. But do you care about dropping a bunch of extra money leveling it beforehand? With WPC vinyl, oftentimes, you won't have to.
3.Realistic wood and stone looks. Seriously, vinyl is changing. Rapidly. The top-end vinyl floors are able to more realistically mimic natural materials better than ever before. WPC vinyl is the best of the best, which means the looks are usually incredibly convincing and beautiful.
4.More resilient than tile. It's true, you could just get a wood or stone look tile and it would also be waterproof. But tile is hard. Standing on a tile floor all day isn't great for your joints or feet. Vinyl is more resilient and much more comfortable.
5.Zero maintenance. All you need is the occasional vacuum and damp mop to keep your WPC looking fabulous.
Where Should You Use WPC Vinyl Flooring?
To be honestly, you can use WPC for any indoor application. So you wouldn't want to use it to floor your entire backyard, but it's great for any room in the house or business.
Because it's waterproof and super durable, there are a few locations that are especially popular.
Kitchen. The warm wood look is so popular in kitchens right now, but if you've ever had solid hardwood floors, you know they don't hold up to the kitchen. At least not a kitchen that you actually use. WPC vinyl is the perfect alternative. You can also go for a stone look and it's a little easier on your feet and joints than traditional tile.
Bathroom. Yes! You can have the look of wood floor in your bathroom and you don't have to worry about flooding. WPC vinyl is easily as good a choice as ceramic tile in any bathroom.
Basement. Basements can be prone to flooding so flooring can be tricky. Luckily, WPC vinyl gives you an option for a gorgeous wood or stone look floor in your basement without the worry of damage during a flood.
Commercial space. WPC vinyl is one of the most durable flooring options on the market. It can hold up to the high traffic of commercial spaces, piece of cake.
Anywhere! There really isn't a bad spot for WPC vinyl floors. We just recommend you keep 'em inside.