Wood plastic composite decking is a new type of floor material. Nowadays, this kind of material are used for parks, residential balcony, swimming pool and other places in many countries.
The Prices of Composite decking are different.In USA , CANADA and Europe, there are Aslo some famous wood-plastic decking manufacturers. So where to buy composite decking cheaper ?
If you are an importer, our suggestion is to consider importing from China.So far, Chinese goods have been more popular.
When you're buying wood-plastic floors,Maybe you want to know what its advantages are.
A NATURAL LOOK
One reason composite wpc hollow decking has become so popular is due to its stylish yet natural look. Being made up of real timber while incorporating an innovative design, composite wood timber provides a stunning and modern look that still looks natural.
Furthermore, composite wood decking comprises of a range of natural finishes and colours, which blend in seamlessly with the surroundings in a garden, augmenting its natural look that is in-keeping with the outdoor space.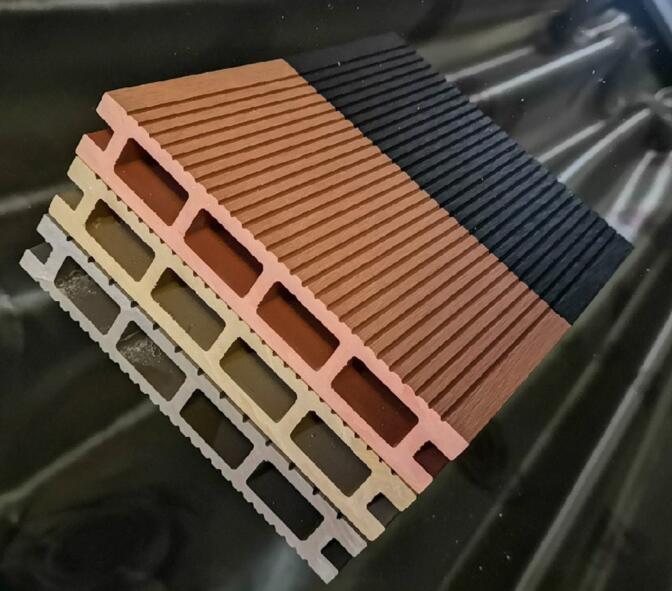 LOW MAINTENANCE
Come rain, snow, sun and wind, garden decking is certainly exposed to the elements. Unless it is treated and stained regularly, traditional timber decking is prone to becoming mouldy, cracking and rotting.
By contrast, composite wood decking requires much less maintenance. Simple cleaning methods with standard household cleaning products, is usually a sufficient way of maintaining the condition of composite wood decking.
Unlike other types of decking, composite wood does not usually splinter, meaning it can be walked on with bare feet!
SLIP RESISTANCE
Asides walking on the smooth, nick-free surface with bare feet, composite wood is also waterproof and consequently slip resistant.
Even if it's raining, the whole family can spend time on composite wood decking without fear they will slip on the surface and hurt themselves.
PEST CONTROL
While most 'standard' forms of decking have to be sprayed with pesticides and other heavy metals during its treating process, to ensure it is not prone to being invaded by pests, composite wood decking does not require such additives. Composite wood is naturally resistant to the likes of insects and fungi and therefore does not need to rely on pesticides.
LONGEVITY
Being made from plastic and wood, composite wood decking is generally more hardwearing to the elements of the weather and consequently has a longer lifespan than other decking materials.
ECO-FRIENDLY
With a growing emphasis to adopt more environmentally friendly practices and lifestyles in the home, more and more homeowners are turning to more greener types of furniture and furnishings.
Composite wood decking certainly complies with those aspiring to make their home more eco-friendly. Made from recycled wood and other recycled materials, composite wood is a greener option of decking than, for example, solely timber decking.
With these benefits in mind, it is easy to comprehend why more and more people are turning to beautiful and practical composite wood as their choice of decking.
How Long Do Composite Decks Last? what is the Lifetime of Composite decking boards ?
With minimal maintenance, composite decking can last at least 15years. Composite decking is low maintenance as it never requires any sealing, painting, or sanding. It is made in an eco-friendly process, salvaging wood and plastics that would otherwise be taken to landfills. Composite decking is reasonably priced, particularly when considering the long-term maintenance costs. This form of alternative decking material is weather, insect, rot, and warping resistant, not to mention that many composite decking options are beautiful and simply stunning.
where to buy composite decking cheap from China ?
Our Company is in Guangdong Province and our Price is not expensive but with high quality.Composite decking floor,except wood-plastic decking, we can also provide wood-plastic fences, wood-plastic wallboards, wpc Railing ,composite Pergola, Pavilion, Bench.